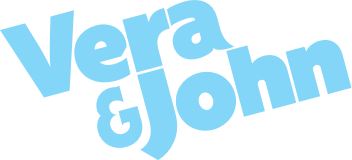 Responsible Gambling at Vera & John
Online gambling is a fun way to enjoy your favourite slots and table games. However, there are some challenges associated with gambling that players should be aware of so they can play responsibly. Below, you will find a brief introduction to several important topics about responsible gambling, with links to articles where you can find more information.
Why is Player Education important in Responsible Gambling?
Player education involves providing players with information about the risks of online gambling, and the various strategies and tools they can use to mitigate those risks and gamble responsibly. Topics include knowing how slots and table games work at online casinos, how to manage their finances and set a realistic budget, and how to identify the signs of problem gambling and how to get help. Read more about player education .
What are Self-Exclusion programs?
Responsible online casinos offer players the option of blocking their casino accounts, either for a certain amount of time, or indefinitely. Self-exclusion is used when players decide they need to take a long break, or if they feel as though they have lost control of the time and money they are spending on gambling. Learn all about self-exclusion schemes here .
What are Limits and Controls at Online Casinos?
Most online casinos offer players the ability to moderate their interaction with the website using a set of features called Gambling Limits, or sometimes Gambling Controls. These features give players control over the time and money they spend on the website. Read about common gambling limits and how to use them.
What is Age Verification, and why is it important in responsible gambling?
The legal age for gambling differs across countries and jurisdictions and it is very important that minors be prevented from gambling. Age verification helps to prevent underage gambling, which is shown to have a negative impact on the well-being of minors. Learn more about age verification.
How do support and counselling services contribute towards responsible gambling?
If you feel as if you or a friend have lost control of your gambling, there are organisations you can go to for help. Support and counselling organisations often present a range of interventions, from helplines and online forums and chat to one-on-one therapy sessions. Find out more about how support and counselling services can help you here.
How does reliable information contribute to responsible gambling?
Online casinos have a duty to present accurate and trustworthy information to their players. That not only includes promotions, offers and advertisement, but also legal terms and conditions. If you would like to learn more about how casinos present themselves to players, and how they can be held accountable, you can learn more in this article .
What are financial safeguards and how can they help me gamble responsibly?
While online casinos should be taking the strongest measures to maintain very high standards of account security, what we mean by financial safeguards here is a set of practices players can follow to ensure they are not gambling outside their means. Some things you can do include:
Ensuring you are playing at a reputable casino.
Check your transaction history often.
Plan and follow a budge when you play online.
Never share your account information with anyone.
For more about financial safeguards at online casinos, read this article .
What is data protection and privacy, and why is it important in responsible gambling?
Data protection and privacy are important topics for customers of any website that regularly handles sensitive information, like financial data. They are especially important topics for players who want to know if their financial details are safe. Read a full discussion on the rights and obligations of data protection and privacy here .
Why are regulations and compliance important topics in responsible gambling?
Licensing and regulations play an important role in making sure that online casinos are fair transparent and can be held accountable for infringements. When choosing an online casino to play at, look for evidence that they have a license. While unlicensed casinos may seem fair, they are certainly under no obligation to follow the law, so you should consider lack of a license as a big red flag! Learn more about online casino regulations and compliance .
What is collaboration and research in responsible gambling?
Responsible gambling doesn't begin and end with players and online casinos, there are many organisations with a vested interest, including regulators, researchers, and support services, among others. Collaboration and research are important for increasing our understanding and awareness of gambling-related issues, and for helping us create prevention and treatment strategies. For more on the subject, follow the link to this article on Collaboration and Research .