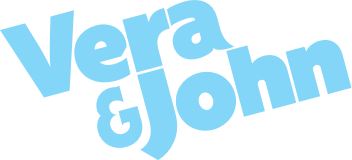 How we handle personal data at Vera&John
When you sign up at an online casino, you will be asked to hand over a lot of sensitive personal data. It is the casino's duty to ensure adequate safeguards are in place to handle that data and ensure their players can enjoy a safe and secure experience on their site.
In this article we hope to provide the answers to some of the more common questions about personal data protection and account privacy.
How do you collect player data?
There are two main ways online casinos collect player data. The first is through the registration form, and the second is when you verify your account.
Registration: when you sign up at an online casino you will be asked for enough information to set up your account, including your contact information and banking details.
Account verification: you will be asked to provide proof of identity, usually in the form of a picture ID, credit card information, or pictures of recent utility bills.
We do our best to minimise data collection, only asking for what we need at the time, while reserving the right to ask for further information (e.g., for verification purposes) later on.
How do you inform players you are collecting their data?
At Vera&John, you can find out how we collect player data and what we do with it by reviewing our general terms and conditions and privacy policy. You can find these in the menu under the more info tab . We also prompt players to review both the T&Cs and privacy policy whenever we update it, and request their consent if necessary.
How long do you keep personal data?
This varies from one casino to the next. You can find how long Vera&John is permitted to retain your personal data by reading our privacy policy .
How do you protect my personal data?
All data sent to and from Vera&John is encrypted using 256-bit SSL (Secure Socket Layer) technology. SSL allows for the transmission of very sensitive data from one server to another in a safe and secure manner. We also provide our staff with mandatory security training to ensure the confidentiality of your personal information.
Who are you sharing my personal data with?
We may disclose your personal data with third-party providers for the purpose of identity verification, payment processing, credit referencing and fraud prevention, to name a few. For a full list of the potential circumstances under which we may share your personal information, please refer to our privacy policy.
Why can't I play anonymously?
There are several reasons why we ask for your real name. Principle among them is our regulatory commitment to anti-money laundering and fraud prevention. Vera&John is a fully licensed online casino, and as such has to uphold certain standards to maintain that license.
How do you manage access to my personal data?
You can find a list of circumstances under which we may grant access to your personal data in our privacy policy. We also adhere to very strict data handling and data privacy guidelines to ensure that your sensitive data is protected.
How do you prevent the leakage of my personal data?
At Vera&John we carefully monitor and audit access to your personal data. As mentioned above, we also operate under very strict data handling and privacy guidelines to protect your data from loss and unauthorised access.
What rights do I hold over my personal data?
You have a right to know what information we have stored about you. You also have the right to request access to that data, and ask for us to correct it if it is inaccurate. You can find a complete list of your rights on our privacy policy page.
What can I do to protect my data?
Here are a few tips to help you protect your personal data:
Avoid using shared networks to minimise the risk of others accessing your data
Never share your passwords with others
Use strong, complex passwords to protect your account
Use a password manager to keep track of your passwords
Check your transaction history frequently to ensure that no one else has used your account