Our Loyalty Program
At Vera&John, we're all about helping you find your fun, that's why we've set up our Loyalty Shop, to provide you with a way to get oodles of exciting goodies that'll take your play to the next level!
And speaking of levels, our Loyalty Shop has 7 of them.
You start out at Level 1. Prospect, a real contender with a bright future ahead of you, and you can climb all the way up to the heady heights of Level 7. Maestro – the highest level you can reach – unlocking all sorts of amazing bonuses along the way!
Start playing now to earn Coins, which you can use to treat yourself to Free Spins, Spin Credits, and loads of other bonus goodies.
See you at the top!
How it works
Play games
Play your favourite games to level up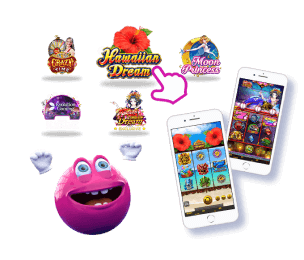 Level up!
Climb higher for better rewards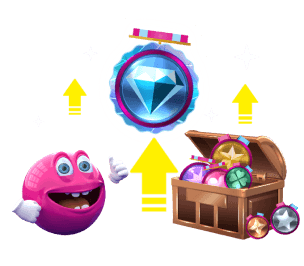 Buy items
Buy amazing treats!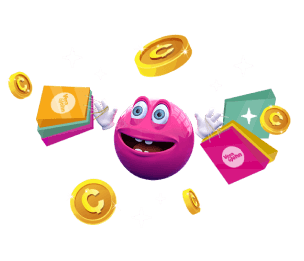 1. How it all works
At Vera&John, we're all about helping you find your fun, that's why we've set up our Loyalty Shop; to provide you with a way to get oodles of exciting goodies that'll take your play to the next level!
Here's how it works:
It all starts from your first wager… well, it starts much sooner than that. When you register for a Vera&John account, we'll sign you up for our Loyalty Program right away.
There are 7 Loyalty Levels for you to explore, each with its own rewards, and each month you'll climb the Levels by making cash wagers.
At the same time, you'll earn Coins which you can use to buy special treats from our Loyalty Shop.
When you play you'll be deciding your Level for the next month, with each new calendar month starting on the 1st of the month at 02:00 CET/CEST.
2. Wagering information
The more you play, the more you'll progress during the month. Here's a quick tip to help you go further; pick a game with a low RTP.
Games with a lower RPT give you more of a boost along the Level Progression bar than games with a higher RTP.
Speaking of the Level Progression bar, you can find it on our Loyalty Program page. It will let you know how far you are from levelling up!
3. Levelling up
Levelling up is all part of the fun! You determine what Level you'll be next month by making wagers during the current month.
And if you're as keen as mustard and fill up the Level Progression bar before the month is over, we'll bump you up to your new level right away!
Do watch out, though. If you've made no wagers at all during the current month you may lose your progress next month. You'll get to keep your Coins, of course. The only way you can lose Coins is if it's been a long time since your last deposit or cash wager.
What are the benefits of levelling up?
First off, you'll be kicking off a brand-new month with a brand-new Level! You'll always get to enjoy the benefits of your new Level for one month, unless you've achieved Level 5. Hero, 6. Star, or 7. Maestro, because then you'll stay there for two whole months!
And you'll unlock a new range of goodies from the Loyalty Shop. Offers like Free Spins, Deposit Bonuses, Spin Credits, and Coins to Cash Conversions all get bigger and better with every new Level!
4. The Loyalty Shop
Every time you log in and play you'll earn Coins – up to a maximum of 10,000 Coins per month – which you can use to buy some pretty great things. Free Spins and Bonuses, Spin Credits and loads more besides! And it all gets better whenever you level up. Speaking of which, the shop will look different depending on your Level.
Not all bonuses are available at every Level, so watch out for these symbols: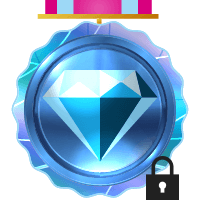 A locked symbol means the item isn't available at your current Level. Level up and you may be able to unlock it!

If you see this symbol it means you don't have enough Coins to buy the item. Remember, you can always get more Coins by playing!
5. FAQs
How can I find a game's RTP?
Every game's RTP is different, so you'll need to check each game if you want to know what its RTP is. Most games list this information in the help or information sections of the game.
Why do I progress slower (or faster) on one game as opposed to another?
The lower a game's RTP, the faster you'll earn Coins. That means that if you play games with a higher RTP, your progress will be slower. We recommend trying a few different games until you find one with a lower RTP to give you a bit of a levelling boost!
How do I use my Coins?
You can use Coins to buy goodies from our Loyalty Shop. Make sure to keep coming back each month to check out the new selection!
How do I get Coins?
The same way you climb the Loyalty Levels, by making cash wagers! Every wager you make will get you Coins to spend in the shop.
Do my Coins ever expire?
Yes. Your Coins will expire if you go for 90 days without making a cash wager and depositing into your VJ account.
How do I find my previous shop purchases?
In the shop there's a tab called "Purchase History" which lists all of your previous shop purchases.
Is there a limit to the number of Coins I can have?
You can earn a maximum of 10,000 Coins each month.
Where can I find my current standing?
On the Loyalty Program page you can find your current level and your current standing on the Loyalty Progression bar.
Why is my current Level lower than last month's?
Your wagers this month count towards your level next month, so it could be that you simply made fewer cash wagers in the previous month. You can level up at any time, so just keep wagering and you'll be back on top in no time!
Level information
Climb all 7 Loyalty Levels to get your hands on oodles of glorious goodies, including Free Spins, Cash Conversions, and loads more!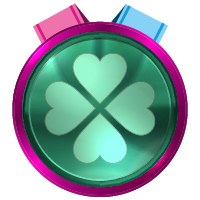 1. Challenger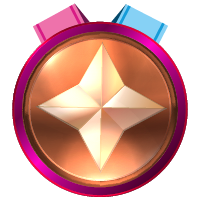 2. Regular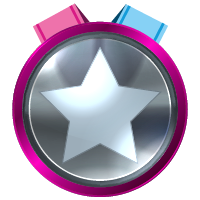 3. Advanced
4. Experienced Player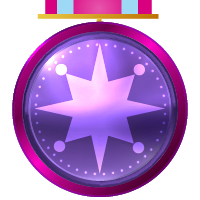 5. Expert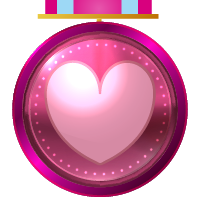 6. Mania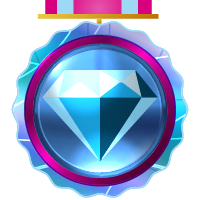 7. Master
You will be automatically registered on the Loyalty program when you register an account on Vera&John. Players who created their Vera&John account prior to 01/10/2020 will be registered on the Loyalty Program following their first wager activity from the launch of the Loyalty Program.
You will be awarded with Loyalty coins for making cash wagers on Vera&John.
Coins have no monetary value and may only be redeemed at the Vera&John shop.
The amount of loyalty coins you are awarded will vary depending on the RTP of each game. Each respective game's RTP can be found in the Game Information or Games Rules page within the game itself. If the RTP is not available for a particular game, a default RTP of 97% will be used.
All necessary information regarding the number of coins earned and available to the player is visible on the 'Loyalty Program' page. We reserve the right to change the rate of coins awarded and/or convert your loyalty coins to a different denomination or value.
To advance in the Loyalty Program, a player is required to make cash wagers on any game on the Vera&John website. No level progression will be activated by wagers made with bonus funds.
Your Loyalty Level will be based on your cash wagers throughout the previous calendar month. Your Loyalty progress will be reset at the beginning of each new calendar month, which starts on the 1st of each month at 02:00 CET/CEST. We reserve the right to change the setup of the progression levels and/or modify your Loyalty level.
You will always enjoy the highest Level achieved for 1 full calendar month. If you achieve levels 5. Hero, 6. Star, or 7. Maestro you will enjoy that Level for 2 full calendar months.
Your coins will be forfeited if your account becomes inactive. Inactivity is defined as a 90-day period during which no wagers and no deposits are made.
Vera&John reserves the right to remove coins and suspend or terminate your account in cases where fraudulent activity or abuse is suspected. This shall include, but is not be limited to: using more than one account, bonus stacking, two tier betting, multiple account/proxy account strategy, using a VPN or masking IP address, Affiliate CPA or revenue share abuse.
We reserve the right to alter these terms at any time. We will notify you of any significant updates to these terms before they come into force.
Affiliates are excluded from participating in this Loyalty Program.
General Promotion terms and conditions apply.