The History of Vera&John Online Casino
A Short History of the Casino
Gambling has been around forever, at least for as long as there have been people, we've always loved to try our luck with a game of chance. Way back in Prehistoric times our ancient ancestors probably gambled on how long it would take them to invent fire.
Casinos, though, as in a building where games of chance are played, are a very recent invention. The first establishment to meet our modern definition of a casino is undoubtedly the 'Ridotto', founded in the 17th century in Venice, Italy as a way to moderate gambling during the carnival.
Once casinos became a thing, it was a short leap from the real world to the digital one. The first virtual casino was inaugurated in 1994. In fact, the casino in question – InterCasino – is our sister casino.
The rest, as they say, is history!
Our History
Vera&John was founded in 2011 by a plucky pair of Swedish guys with a deep and abiding affection for online casino who wanted nothing more than to spread their love of casino games. They came up with the idea for Vera&John while relaxing by the beach. Since those humble beginnings, VJ has gone from strength-to-strength, growing into a first-class casino brand bringing an unbeatable selection of slots and live casino games to players all over the world!
It has always been our ambition to conquer the world of online gaming! Based in Malta, we began by conquering the Nordic market with a license granted by the Malta Gambling Authority before branching further afield. In 2013 we took our first steps into Japan, quickly becoming the Number 1 Online Casino in the Japanese market.
Vera&John is a fully licensed online casino, operated by Breckenridge Curaçao B.V. under a license granted by Antillephone.
Our Mascot
Are you feeling Lucky? Well hands off, because Lucky is our plucky pink mascot – a bingo-ball shaped being that's full of bounce and larger than life! That's because you need a big personality to keep you going!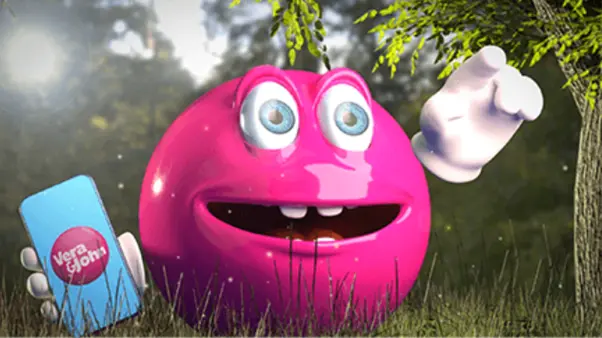 What is Lucky's history? Where did Lucky come from? Does Lucky have a tragic backstory? Well, if we were to tell you, you probably wouldn't believe us – but if you were to guess that Lucky is a time-travelling robot piggy bank from the future well, who's to say if you were right or wrong. Anyway, you can rest assured that Lucky will do what Lucky always does, and that is to cheer you on to victory from the sidelines with a big smile plastered across their round face.
VeraJohn Home
|
tablegames
|
slingo
|
slots
|
livecasino