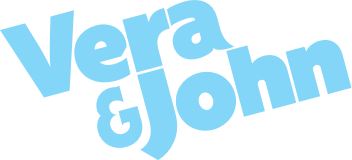 Slot ? Bingo?? What's Slingo?!
Background of Slingo
Slingo is an online game born from a mash up of classic slots and bingo to create something new and unique. The name Slingo itself is made up by squishing the words Slot and Bingo together!
Slingo's popularity stems from its resemblance to bingo, already a well-known game with a long history in its own right, combined with the added benefit of slot mechanics. As a game, Slingo plays different to both of its parents, delivering a truly innovative experience.
What is Slingo?
Slingo is a bingo game that plays like a slot, combining elements of both to become its own thing. Your first look at a Slingo game might feel a bit overwhelming. It may be hard to figure out what's happening, don't worry, let's get to the bottom of it together!
Most Slingo games are played on a regular bingo card, or something that looks like one. When you hit spin, the game will generate 5 random numbers (and sometimes elements of slots gameplay, like wilds and free spins) and if any of them match the numbers on your bingo card, those numbers are crossed out, like in Bingo.
Origin of Slingo
Slingo originated in 1994, the brainchild of a US real estate agent who formed a company to market his great idea. Slingo has gone from strength to strength in that time, growing in popularity into a global brand with loads of different ways to play. In fact, players of the original game might find Slingo in its current form almost unrecognisable from the game they used to know.
While Slingos old and new are both played using a bingo card and a mechanism for generating random numbers with the aim of forming lines (or Slingos), the original game gave players 20 turns to form as many Slingos as they can. There were also feature drops, like Jokers, which act as wilds, and coins, which grant players extra spins for free.
These days the game is much more streamlined, but just as compelling as ever!
Basic Rules
As mentioned above, there are loads of variations on Slingo, so let's look at the 20th anniversary edition of Slingo Classic .
In Slingo Classic you have 11 turns to score as many Slingos as you can. Hit Start Game to begin. Each spin will turn up 5 numbers, or a combination of numbers and special symbols, and if they match any of the numbers on your card, they will be starred out. To the left of the board is a ladder with a win progression based on your stake. For instance, if you end the game with just one Slingo, you'll have won $0.10 for a $1 stake.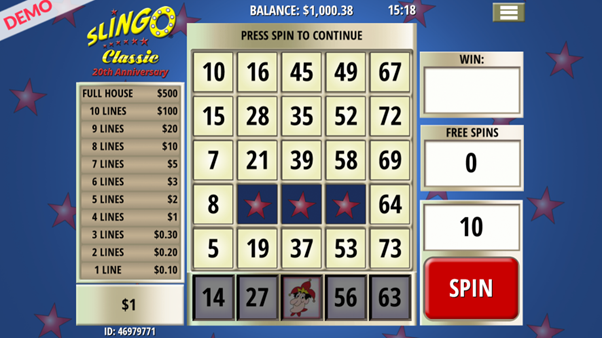 The more lines you make, the bigger your prize!
So, what about those special symbols? Beside numbers, there are five other symbols that could appear on the bottom line: Jokers, Devils, Super Jokers, Free Spins and Coins.
Jokers let you mark any number in the column above. Super Jokers allow you to mark any number on the grid. Coins award an instant cash prize (based on your stake). Free Spin symbols give you extra Free Spins that play at the end of your 11 initial spins. Finally, Devils are blockers, meaning that if you land a devil, you will not be able to mark a number in that column.
If you thought the game was over when you ran out of turns and exhausted any free spins you landed during the game, no it isn't. Most versions of Slingo let you keep playing for a few more rounds, but you will have to pay for each additional spin with your balance.
How much each new spin costs depends on how many open slots are left on your Slingo card, as well as where those empty slots are. For instance, if most of the card is open an extra spin might cost a small fraction of your stake, whereas if there are only 3 positions left on the card, you might have to pay 20x your stake, and more, for each additional spin!
Playing Slingo step-by-Step Guide
Most modern Slingo games work in much the same way, so let's keep using Slingo Classic as an example.
Before you start the game, tap on the hamburger menu at the top right of the game area and select play controls to set up the max number of extra spins/max spin price for when you're out of turns. You can only do this before starting the game, so make sure to set these up now!
Next, let's set our stake. Classic Slingo lets you bet from $0.20 up to $25 per card. The more you stake, the higher your potential winnings will be. Let's leave it at $1 for now.
You should have 0 Free Spins and 11 turns on the board.
Press Start Game to begin!
As soon as you hit Start Game, the game area to the left of the card will fill with the progression of wins from $0.10 up to $500 for a $1 stake. You'll also get your first 5 numbers, and if you're lucky, you'll fill in a few numbers on the card, too.
Press Spin until you run out of turns. Remember to click on a number when you land a Joker or Super Joker.
If you land a devil, you'll hear a triumphant little cackle, the mischievous scamp, but you won't have to do anything other than lament the loss of opportunity.
Once you're out of free turns, and you've used up any free spins, it's time to start paying for extra spins. Most versions of Slingo are good enough to show you how much you've staked so far, and what you stand to win if you continue.
Depending on how you set things up at the beginning, you might not have many paid turns remaining, so decide for yourself how much you're willing to gamble before you collect your winnings.
Description of Popular Slingo Variants
There are dozens of different Slingo variations on Vera and John alone, branded games like Slingo Who Wants to be a Millionaire, or games that lean heavily into the slots side like Slingo Starburst, or completely original games like Slingo Berserk, or Slingo-ne Fishing, so there's no shortage of games for you to pick from.
The unique features of Slingo Starburst
Slingo Starburst gives you 10 turns to land as many lines as you can. Free spin symbols add extra spins, but even if you don't land any of those there are two opportunities to grab an extra spin: one with a 50% chance, and the other with a 25% of netting an extra spin.
Other symbols include Starburst Purple Gems, which grant an instant cash prize if you land 3 or more of them in one spin. There are Wilds, Super Wilds, and Blockers, which act like Jokers and Devils in the classic game. There are also Starburst Wilds that let you pick any number in the column above (like a regular wild would) but then holds in place for a respin. Why? Well, they count as Purple Gems, so if you land a couple more, you will get an instant win!
If you've scored 3 or more lines, when you run out of turns you'll get 1 free spin on the Slingo Bonus game with a guaranteed win. Also, the more lines you score before reaching the bonus game, the fewer low value symbols are left on the reels when you take your spin!
Tips for Beginners
There's no trick to winning at Slingo. In fact, most versions of the game almost guarantee that you will win something. You may not win enough to cover your stake, and you may end up paying quite a bit in extra spins to get those extra Slingos. So, let's talk basic strategy.
Use your Wilds carefully:
Wilds and Super Wilds are very powerful and can change the game completely in just a few spins, but you will need to choose where to use them carefully. Be aware of the lay of the land, and if you have a chance to finish a line, go for it.
Think twice before buying extra spins:
That's not to say don't do it, but you should always weigh how much you've already staked against how much you stand to win. The odds of landing those last few numbers is very slim, and the cost per spin may be more than it's worth. Sometimes you're better off just cashing in and starting over.
Not all Slingo games are created equally:
some games have more features than others. Slingo Who Wants to be a Millionaire, for instance, gives you the chance to win up to $10,000 with a $1 stake. It's worth shopping around until you find a Slingo that feels right for you.
Don't jump for the middle square:
this is a bit of an advanced strategy, since your instinct might be to fill that centre square as quickly as possible – noughts and crosses style. Try to resist that urge, since you will often score extra for double or triple lines, and if you're very lucky you can finish five lines at once with a single square.
Best Online Platforms for Slingo
Has all this talk of Slingo sufficiently whetted your appetite? If you're ready to take Slingo out for a spin, there are dozens of games for you to try right here at Vera & John online casino. You can play on your desktop or mobile device. You can even stick Slingo in your pocket and play on the go. Fancy a look? Head to our front page and search for Slingo, pick a game and take a spin!
Playing Slingo at Vera&John
From humble beginnings to one of the fastest growing game categories, Slingo is here to stay. Now that you have some idea of how to play this thrilling mix-up of bingo and slots, it's time to put what you've learned into practice! Slingo is so easy to play, and a single game is over in just a few short minutes, so why not give it a go?
We heartily recommend having a go on Slingo Berserk. It's a recent Slingo game with very few features, but it's forgiving enough to help you get a grasp on how the game is meant to be played, as well as an appreciation for how important it is to choose your wild square wisely!
Have fun!
Vera & John Home | Video Slots | Jackpots| Live Casino| Table Games