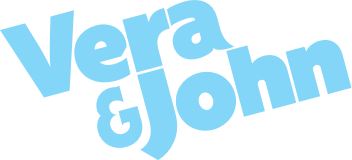 How to deposit and withdraw using Vega Wallet
Vera&John online casino accepts a wide variety of payment methods.
In fact, our intention has always been to make your deposits and withdrawals as safe, quick, and convenient as possible.
That way, no matter which method you choose you will always have a same smooth Vera&John experience.
In this article we will introduce and thoroughly explain one of the more popular payment methods – VegaWallet!
Introducing… VegaWallet
VegaWallet is an electronic payment solution that lets you make and receive payments to and from your bank and third parties.
If the name seems unfamiliar to you, perhaps you've heard of its predecessor, Venus Point. Venus Point was a very popular payment method, and VegaWallet is its latest incarnation.
How does VegaWallet work?
With VegaWallet you can transfer funds from your bank to your VegaWallet account and use them to play at Vera&John.
The way it does this is by managing your cash as points.
It's important to mention that signing up for VegaWallet is quick, free, and easy. We'll go through the steps below, but for now let's talk about how to get and use VegaWallet points.
Each VegaWallet point is equivalent to $1.
So, for every $1 you put into your VegaWallet account you will have 1 VW Point.
You can use VW Points anywhere that accepts VegaWallet, making it super convenient to use at Vera&John, because our base currency is in dollars.
Transferring funds between your bank and VegaWallet, and transferring points to VJ are all free, and incur no fees.
In fact, there is a Points Back system, which refunds you point when you deposit money into VegaWallet or use your VegaWallet to send points to member stores like Vera&John!
How does VegaWallet's Points Back system work?
Whenever you deposit funds into your VW, or use your points at VJ (and other stores that accept VegaWallet), you will get a small percentage of your points back:
You will get 0.2% of the point amount when you top up your VegaWallet account with points.
You will get 0.6% of the point amount when you transfer points to Vera&John.
If you top up your VegaWallet with 1,000 (or $1,000), and then transfer them all to your VJ account, you will get 8 VegaWallet points added to your account!
The monthly limit to the number of points you can accrue with this feature is 20,000 points, so the more you use it, the more money you'll get back!
Get even better deals on Vega Day!
One good thing to know about VegaWallet is that every Tuesday and Saturday is called "Vega Day." You might be asking yourself what's so great about Vega Day – well, on Vega Day, you can increase your Points Back total by up to 500 times!
When you send funds to participating stores (like Vera&John) on Tuesdays and Saturdays, you will automatically receive an entry into a raffle with Points Back prizes.
Don't miss your chance to win extra Points Back on your VegaWallet – every bit counts! If you're a raffle winner, you will be notified the following Monday or Thursday.
Experience speedy withdrawals from Vera&John
One major advantage with using electronic money, not just VegaWallet, is the short time it takes to receive funds.
Whenever you make a withdrawal, you want it to arrive as soon as possible. Bank transfers can take up to 3 business days, but with electronic money, you can get your funds instantly, or within 24 hours!
How to register to VegaWallet
If all the advantages of VegaWallet have you intrigued enough to try it, you're in luck! Getting set up is super quick and very easy. It's possible to register in two short steps!
\[1] Register your email address in VegaWallet
Start by registering your email address
When you access the Vega Wallet homepage, you will see a button to log in or register as a member.
Click "register as a member" and enter the email address you intend to use on the next page.
Enter your email address and press the "Send email" button to complete the first step of your registration journey.
\[2] Enter your account information and complete registration
You should have received an email from VegaWallet to the address you entered in the first part of the registration process.
Press on the "Application Page" link in the email. You will be redirected to the VegaWallet registration form.
For the next step you will need to enter all the required information:
Email address
Password to set
Full name
Date of birth
Address
Secret questions and answers
That's all you need!
Once that's done, complete your registration by pressing the "Register" button. The whole process is quick and simple, and you will receive confirmation within a few minutes!
How to deposit money to VegaWallet
Now that you've registered and set up your VW account, let's learn how to deposit money into your VegaWallet.
After logging into VegaWallet, press "Purchase"
Enter the deposit amount in Japanese yen and press "Confirm application"
You will receive remittance information and a one-time code
Complete your transaction by making a bank transfer to VegaWallet.
The one-time code is used when transferring money from your bank to VegaWallet. You will need to enter the code just before the name of the transfer holder. v
When your transfer is complete, points will be added to your VegaWallet account within 10-20 minutes.
The next step is to transfer your new points to Vera&John.
To do that, you must have an account registered with Vera&John and then simply press the "deposit" button on site, and follow the instructions.
For more information you can read our article on how to deposit funds at Vera&John.
How to withdraw money from VegaWallet
Next, let's take a close look at withdrawing money from VegaWallet to your bank account. Thankfully, this process is even simpler than depositing!
After logging into Vega Wallet, press the "Convert" button
Enter the amount to be exchanged and your bank account information
Read the terms of service and if there are no problems, click "Agree to the above and redeem" to complete!
That's all there is to it. And because electronic money often arrives on the same day, your funds should be in your bank account very soon!
There are loads of different electronic money services, but we think VegaWallet – with its Points Back system – is one of the most generous!