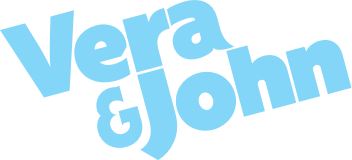 How to deposit money at Vera&John online casino
In this article we will show you all the ways you can deposit funds into your Vera&John account. We'll explain the main features, as well as the advantages and disadvantages of each method and give you our best recommendations for getting money into your VJ account.
Making a deposit at Vera&John is very easy. We offer a variety of payment methods from the humble Bank Transfer to that new-fangled cryptocurrency that everyone's talking about.
If you've ever felt confused about which payment method to use, or if you have ever wondered which method was the best, then this article is for you. We hope you learn something interesting and useful!
But first, a word about fees.
Whenever you deposit or withdraw at Vera&John online casino there may be fees depending on the payment method you have chosen. To avoid being surprised by unexpected fees, we recommend that you read our deposit and withdrawal fees at Vera John.
For the latest information on deposit methods at Vera&John, see our complete guide to payment methods.
Deposit limits at Vera&John
The minimum and maximum deposit amounts at VJ vary depending on the payment method you have chosen, your player status, and whether your account has been verified.
You can find the latest advice on minimum and maximum deposit amounts for each payment method on the payment method page.
Deposit processing period
Depending on your chosen payment method, your deposit may arrive in your account within a few minutes at the very earliest. We work with payment providers to ensure fast and seamless deposits so that you can start playing as quickly as possible.
Please note that we may ask you to verify your account depending on your account status and style of play.
For more detailed information about account verification, please log in and visit our account verification page .
How to deposit at Vera&John online casino
Currently, we accept the following deposit methods:
Bank Transfer
Credit Card
Electronic Money
Cryptocurrency
Important Note
The payment methods we accept at Vera&John may change with very little notice. While we always try to give ample notice for major changes it is in your best interest to log in to your VJ account and check the payment methods page.
from time to time. The payment methods that are currently displayed on the deposit page are the accepted deposit methods.
Bank Transfer
It is very simple to deposit using online banking. Direct money transfer is an incredibly convenient method of making sure your money gets securely from your bank account to your casino account. One thing to bear in mind is that very often banks will charge fees on bank transfers, so make sure to check with the financial institution where you have your bank account to find out what those fees are.
Please note that if you have selected bank transfer from the menu on the deposit page and your bank or institution is not listed, you can contact our customer support for confirmation.
Credit Cards
Credit Cards are the most popular method of making a deposit at Vera&John. Almost everyone knows how it works, you just enter your card details into the fields on the deposit page just as you would when buying goods online, and your funds will be in your account quickly and securely.
One drawback is that we don't accept all credit cards, so be sure to check the deposit page when making your deposit to see if your card is covered.
Electronic Money
We currently accept four types of E-Money at Vera&John: Jeton Wallet, Much Better,Payz, and Vega Wallet.
The advantage of using an E-Wallet is that you have a secondary account holding money between your bank and whatever you want to spend your money on. This adds an extra level of security and anonymity to your purchases.
Another advantage is the speed of depositing via E-Wallet, so if you want a method that lets you deposit and play within minutes, E-Wallets are for you!
Virtual Money, or Cryptocurrency
At Vera&John we accept several of the more popular cryptocurrencies:
Bitcoin (BTC)
The world's first cryptocurrency based on blockchain technology. It is said to be the most widely traded of all cryptocurrencies.
Bitcoin Cash (BCH)
This cryptocurrency was developed to improve upon Bitcoin and allow for faster transaction processing. It is virtually the same as Bitcoin in usage but is a different currency.
Ethereum (ETH)
This is a popular cryptocurrency based on Bitcoin. Currently the second most popular cryptocurrency after Bitcoin and is handled by most exchanges.
One useful feature of Ethereum is Smart Contracts. This allows users to automatically execute contracts once certain conditions have been met. And since the contract information is recorded in the blockchain, there is no need to worry about tampering, making it extra secure.
Litecoin (LTC)
Litecoin uses a mechanism called Segwit to reduce the size of transaction data, making it faster and more practical to use than Bitcoin.
Ripple (XRP)
Ripple is a platform specializing in payment, and XRP is the cryptocurrency used by the platform to carry out transactions. It is fast becoming the cryptocurrency of choice for international money transfer.
Ripple has a bridge function which lets users exchange XRP for Yen, Dollars, and Euros, as well as other cryptocurrencies like Bitcoin.
Depositing step-by-step
Whether it's your first time depositing funds into your Vera&John account, or if you just need a quick top-up, there are just a few shorts steps between hitting the deposit button and taking a spin on your favourite game.
Here's how it works:
Log in to your Vera&John account.
Tap Deposit on the top right side of the screen. Or,
Tap the 3-line menu on the left side of the screen and choose Deposit.
Choose the payment method you would like to use.
Follow the instructions on screen to complete payment!
If there's a bonus offer available with your deposit, you'll see it on the deposit page. The default option is to accept all bonus offers, so if you don't want to claim a bonus with your deposit, make sure to tap the box until it is no longer highlighted.
Also, please remember that the speed at which your funds arrive in your Vera&John account is very much dependent on your chosen deposit method. Some methods credit your account instantly, or within a few minutes – such as E-Wallets and Cryptocurrency – whereas others, like Bank Transfers, may take a little while longer.
If you've read this far, you're ready to make a deposit! Don't forget to check our selection of available payment methods.
which we always keep up to date. And while we have said that we think E-Wallets are the easiest and fastest method of deposit, the best deposit method is always the one that is most convenient for you.
Now, what happens after you've played for a bit and racked up some winnings? Easy! You make a withdrawal! Head over to our handy guide to withdrawal methods at Vera&John online casino!